***The Talent Scout series features disc jockeys whose acquaintance we make in our travels whom we connected with on some level or shared an adventure. Usage of the term "talent scout" is by no means a suggestion that we have unearthed some unknown DJ (most of the subjects rule their markets!) but rather aimed at creating a dialogue with someone who requires further discussion.***
On the main strip of Park City UT, there is a doorway that always has a line outside, especially during Sundance. Adverse to crowds on the street, I had never descended into the venue, until that man Danny Masterson, one of the proprietors, asked me to come play a record où deux. T'was worth the wait.
Along with his partner, Seth Hill (a really good dude!), they have created a space where the focus is great music rather than subjecting the masses to the same old programming in order to appease some bottle clients — though every time I've been there, those tables have been sold out and jamming, so: a thumb-to-the-nose for the sheep and shepherds!
This wonderful establishment is known as Downstairs, and upon my first engagement, and every subsequent engagement since, a promising young disc jockey by the name of Bentley has collected me from the log cabin in which I sleep to break some bread before work, booze, and those antics a night in Park City promises.
A promotional photo; to me, this guy looks like he enjoys his life: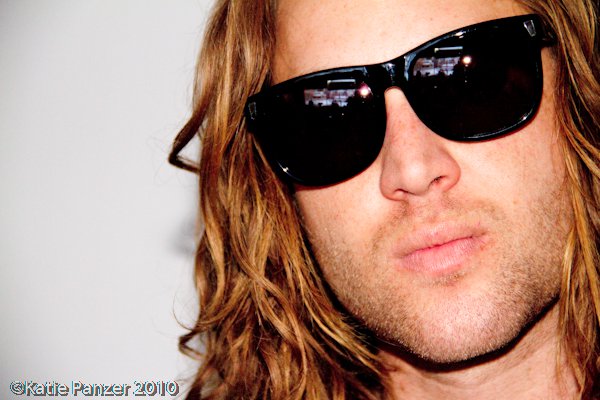 One of the finer points of Bentley is that he's excited about DJing, an element that can escape so many of us so easily with the repetition involved in our work. Conversations at dinner, always with the ever-enjoyable Elvis Freshly in the cipher, are driven by these young men's passion to learn, yearning to experience, and thirst for knowledge. And I'm not the only vet who notices…
Nightlife icon DJ Scooter said the following about Bentley: "Great attitude, nice kid. Super motivated and excited," while the omnipresent DJ Spider weighs in with: "He's cool, passionate about DJing, and a genuine good dude." Pretty solid cosigns, I reckon.
But personality alone a good disc jock makes not. Fortunately, Bentley holds his own, whether the featured player, or part of the supporting cast when Downstairs imports someone like me. For said task, boss man Danny Masterson agrees: "He sets up the guest djs oh so nicely."
Last month, Bentley and his homie Dolph came to visit The Capts at our new residency at Marquee Dayclub. Regatta Chic Sundays means white sangria, and while it freely flowed, I pressed the young lad for some insight:
GRAHAM FUNKE:: One of the reasons I love working at Downstairs is that the crowd is receptive to a multitude of genres, as long as you read them right, a strategy which Danny and Seth seem to encourage. What's your mindset when you walk in each night?
BENTLEY: It's very simple: I play music that younger and older people can enjoy and dance to. I also choose songs I feel the headliner is not going to use. And I focus on playing songs for the ladies because they get the dancefloor moving and the party started!
You might think it's November, but my moustache game is strong all year. Bentley ain't never scurred: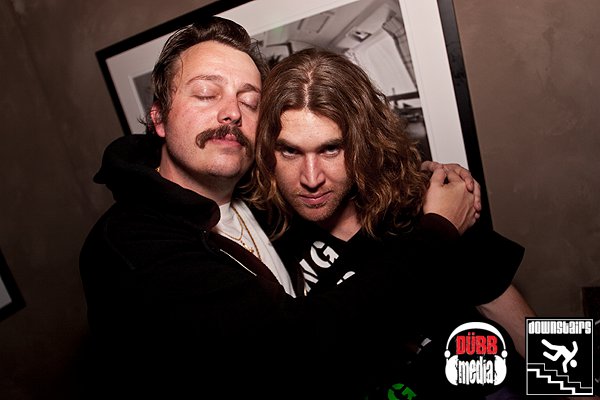 GF: You're still a young man. What is your process for gaining musical knowledge, so that you have something for everybody?
B: I study the hits from the 80s & 90s! It's always been important for me to have those sets in my tool bag! Before I was playing out, I would go listen to DJs and observe how the crowd would react to songs. That taught me a lot about club classics that I had never heard before!
GF: Obviously, Park City is a destination spot during the winter months. Talk about the different crowds you see in summer compared with people who visit during the Sundance Film Festival, for instance.
B: During the summer, I see a lot of locals that live in PC, and a lot of people that come from the Salt Lake Valley. During the winter and Sundance, I feel like it's a lot of people from the East Coast & California!
GF: What attracts you to Utah? How does Park City keep you there?
B: I was born and raised in Salt Lake City. So as a kid, I would always go up to Park City with my family. What attracted me was how it always felt like I was on vacation even know it was only 45 minutes from home.
GF: Which DJs do you run with? Who do you bounce ideas off of? What DJs do you appreciate outside of your market?
B: The guys I run with are Dolph (also my manager), Elvis Freshly, and Luva Luva. We all trade music and help each other get better! Outside of my market, I appreciate and have played with Scooter, R.O.B., Spider, Fashen, Prymetyme, Z-Trip, Reach, Revolution, Morse Code, Jesse Marco, Samantha Ronson, XXXL, Clinton Sparks, StoneRokk, Thee Mike B, Scene, and I can't forget the one & only Graham Funke! I also wanna give a big shout out to Danny Masterson & Seth Hill for making a lot of these names possible!
GF: Nice list. So pinpoint for me exactly what made you want to be a disc jockey? Make sure you have a good answer or suffer The Capts' wrath.
B: I remember the exact moment I wanted to become a DJ: the first time I ever went to a club! I was 18 years old and the second I walked in, it felt like paradise. I knew the club was the place I wanted to be! R.O.B. aka Robert Hathcock was killing it. I was so amazed how he was playing new hits with the classics. I just had to learn more!
I often make this face too when the camera looks my way, so I can relate: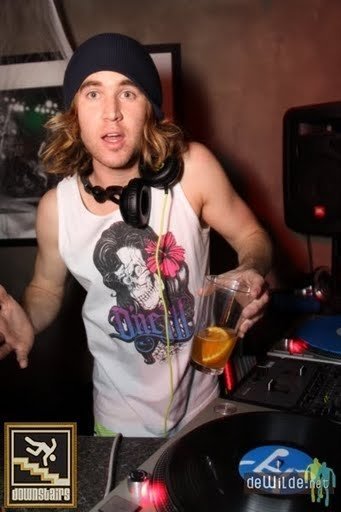 GF: Is SNS a gang? You and homies rep it pretty hard.
B: SNS is an entertainment company that Dolph and I started a couple years ago. We wanted to provide music for people and didn't feel there was really that type of service in SLC. So a couple of close friends helped make it possible! Shout out to Chris Zelig, Eduardo Puntin, and all that support SNS!
GF: How do you spend your free time?
B: Practicing scratching, working on a mash-up, always something to do with music! I have a really great group of friends around me so I'm usually hanging with them, hitting golf balls, playing ping pong, or swimming at our crib!
GF: Is there any one song you always look forward to playing?
B: Spice Girls – "If You Wanna Be My Lover"
GF: If folks want to hear you play that, what venues might this occur?
B: In SLC, One Night Club on Thursdays, W-Lounge on Fridays. And in PC, I'm at Downstairs every Saturday, most likely with a guest DJ!
GF: In a smaller market like Park City, what's the biggest benefit for you when Downstairs brings in one of these guest DJs?
B: That's hard! There are so many! I get to learn so much about programing and shaping a set! And working with a lot of the greatest DJs has helped me get my name out more in my own city! One of my favorite things to do is watch, so it's the best of both worlds: I get to play a little for them and then I get to hear some great stuff! I definitely get my notebook out when you're in town, Graham.
GF: Thanks, pal. All I can offer is my best.
Look at www.symmetryandsound.com for info and some more photos.