The Capts are voracious readers; many claim it as an exercise to maintain our aloof and condescending natures while others chalk it up to the ammunition necessary for those tangents that make conversing with us so pleasurable. In reality, it's simply that we are intelligent and enjoy the written word.
But we realize that not all share this thirst, reflected prominently in the quality of films and presidential hopefuls currently at hand, and we cast no judgment here. The only purpose of this brief treatise is as an excuse to put the download link for our new mix cd up front, and spare those who rather not sift through any of our bloated musings.
Behold!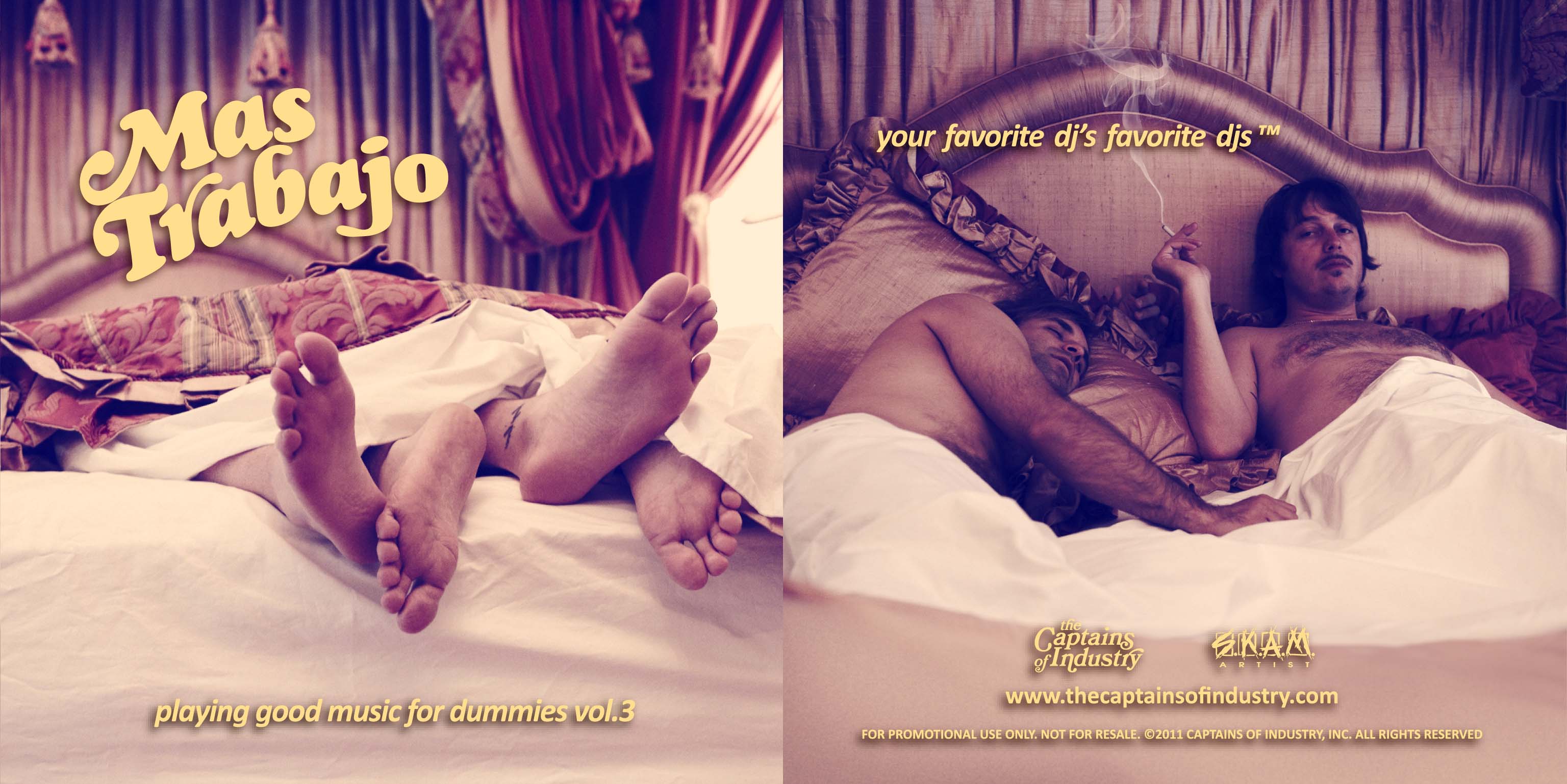 Many have likened this recording to Guns N Roses' Chinese Democracy, as it took so long to complete and usher into the marketplace. We shy away from that comparison as we hope Mas Trabajo will have the legs to provide continued listening pleasure for years to come, the kind of item that anthropologists might study in 1000 years, if our world were not to end in 2012 (fingers crossed).
In our defense, attention to detail is our main desire, so production is of utmost importance, focusing on high levels of cohesion that we hope do justice to many of the artists involved in the programming. Plus we released a summer mix in the meantime. And we still needed leisure periods to pursue our other interests like tennis, oak barrel aging processes, organic changes in cavendish, and Terrence Malick's release schedule.
When we released Trabajo a few years back, the artwork needled a few with its homoerotic themes; we hope that the discussion is at rest now as the Mas Trabajo artwork has taken us out of the frying pan and into the fire. Needless to say, we know what we like late at night behind closed doors, and that suffices. As with every photo shoot we mount, endless effort was exerted to find the right location, photographer, and graphic designer for the project, synergy manifesting with Ben Balvanz's patience, Eric Ray Davidson's keen eye, and the gaudy furnishings of a rented estate in old La Cañada.
Since joining the SKAM roster, Sujit Kundu has pleaded time and time again for this CD to be completed. At one point, he doubted its existence, even though the word of The Capts is as good as gold. It gave us more joy than its actual completion to announce to him that it was in fact completed, though not as much joy as we anticipate in distributing it now that it is in fact completed. Stone endured the constant haze from Graham's fine briars in the process, just as Graham endured the essence of the gym as Stone trained daily as a pugilist. But all was worth it.
In closing, we are denying officially of the existence of a hidden track at the tail end of the CD.
Yes, that's The Capts singing. And this line belongs to Jens Funke for his versatile knowledge and application of music.
Enjoy.