Last year, whenst The Capts and Red Bull were discussing "what next," the idea of a calendar was reintroduced. We had given it a shot the year before, secured an illustrator and settled on concepts for each month, but the project fizzled when our artist disappeared off the face of the earth. It's not always a walk in the park to work with/for The Capts.
The ideas were too strong to put in a drawer, so we excavated the inspiration folder and presented the concepts to the only people who could make it happen: our Red Bull compatriots and the good folks at Eyerus.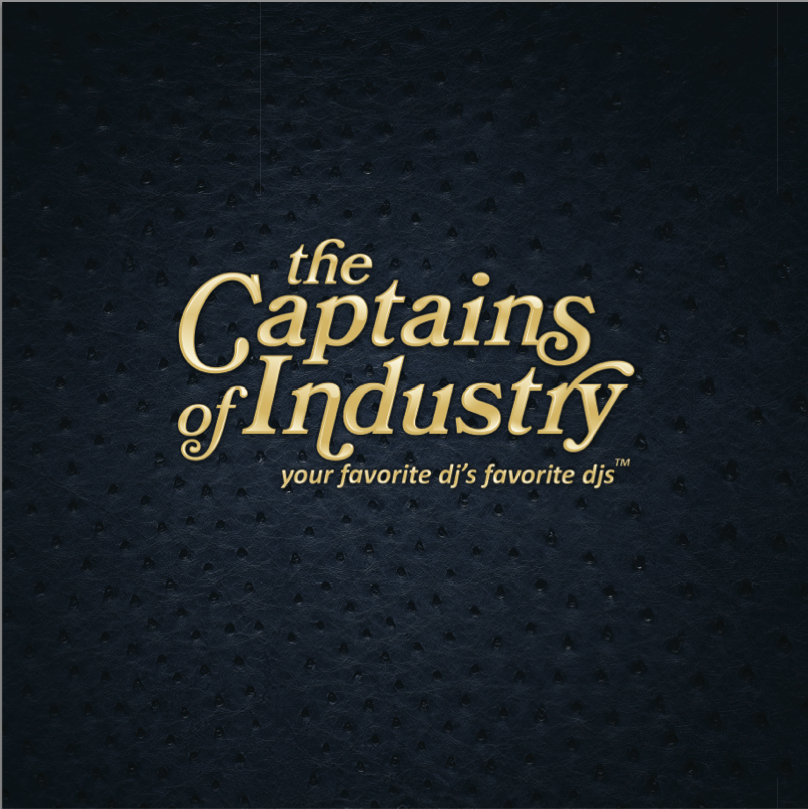 This, in turn, connected us to one Allan Burch, the artist who brought all our ideas to life — AND THEN SOME. You have to be cut from a certain cloth to wholly grasp what The Capts want out of a project, which is why product from us takes so long to hit market. This talented gent over-delivered, and though we never met him in person, judging from the way he chooses to present himself, he is no doubt quite interesting!
But to learn for ourselves, we decided to ask him a few questions, get to know him, albeit in a public forum.
The Capts: The most rewarding thing about working with Red Bull is their open-armed reception to new ideas and their pledge to give those ideas wings. Eyerus, which facilitated the production of our calendar in collaboration with them, chose you as the artist who could best manifest our concepts. Had you worked with them before and on what? How did the union between The Capts and Allan Burch materialize?
Allan Burch: The folks at Eyerus are the kind of creative visionaries an illustrator loves to work with. I had the pleasure of working with Eyerus on two prior projects — both to promote television shows on FUEL TV. The first illustration was an homage to early-80s montage-style TV Guide covers. The art, depicting the show's main personalities, core sporting events, and numerous outlandish kitschy details, appeared on the cover of a faux TV Guide-style publication, promoting network programing and personalities found on FUEL TV.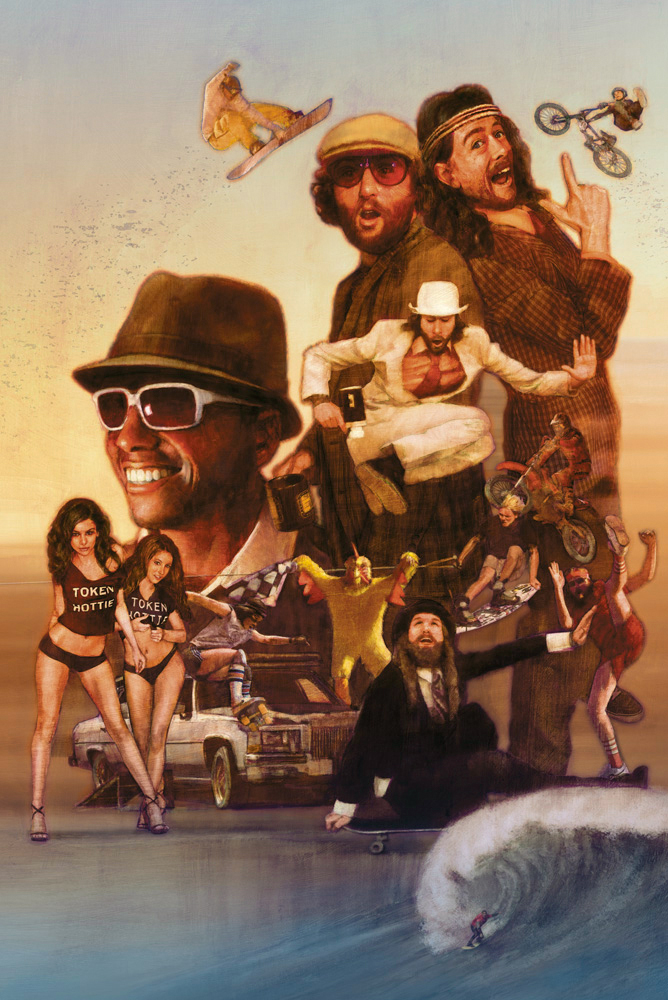 The second project was a print ad to promote the 4th season of the TV show, The Adventures of Danny and Dingo, also for FUEL TV. With a tongue-in-cheek nod to Drew Struzan's Smokey and the Bandit II movie poster (showing the main characters in giant form, with the swirling chaos of vehicles around their feet), the idea was to create an illustration reflecting the chaos, craziness, and wit of the upcoming season of the show.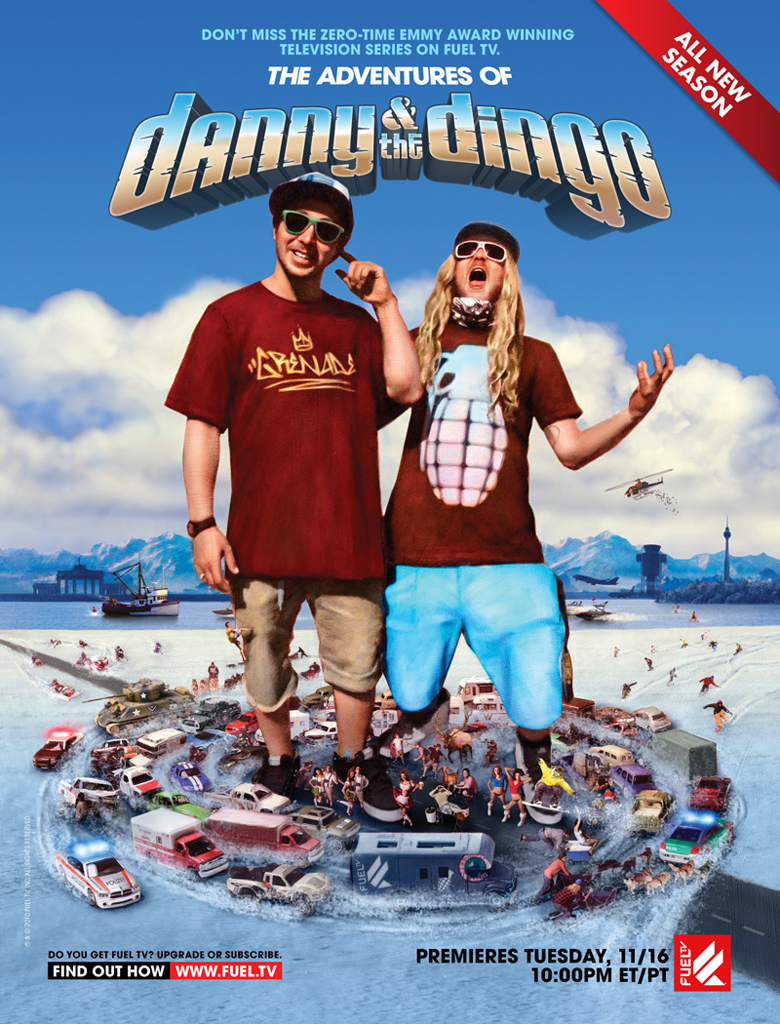 The folks at Eyerus approached me about The Capts' project, provided me with a brief description of the overall concept as well as concepts for each month's holiday, and asked if I would be interested in helping out. It was obviously a very inspired project with incredible creative potential. And, it's always a treat working with Eyerus. Naturally, I jumped at the chance.
TC: Merci beaucoup! Our dream for the calendar was to create 12 unique scenerios that coincided with interesting dates for each month, portrayed in the fashion of old James Bond and Blaxploitation movie posters, for instance.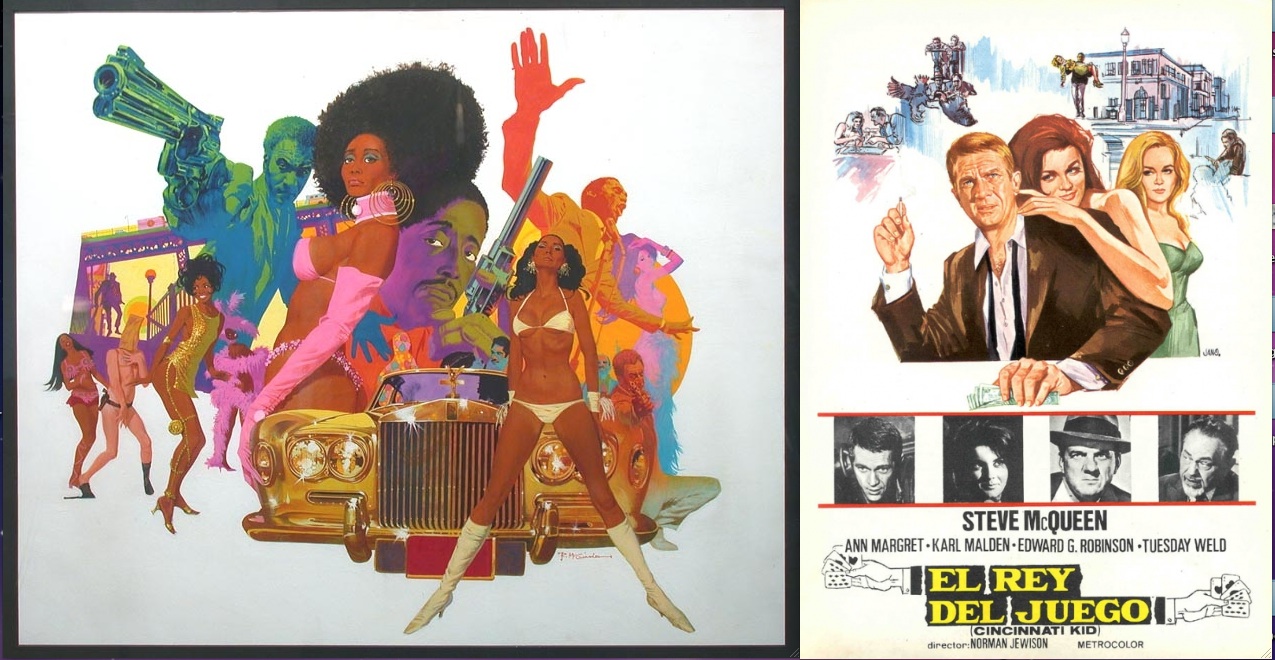 Was this a genre you had delved into before, the collage/potpourri approach? Do you have a favorite movie poster in that realm?
AB: I had flirted with this collage-oriented, '70s kitschy genre in the above-mentioned projects with Eyerus, but not as directly, insofar as the James Bond and Blaxploitation vibe, as with this project.
Part of my research included familiarizing myself with almost every movie poster of that genre. Coffy emerged as a favorite and inspiration. For various reasons, such as color, composition, or overall vibe, I also found inspiration with: Superfly, Superfly T.N.T., Cotton Comes to Harlem, Shaft's Big Score!, Abar: Black Superman, Bamboo Gods & Iron Men, and Foxy Brown.

TC: What artists and/or artwork inspire you? Who/what would be a favorite?
AB: My favorite artist is John Singer Sargent, for his masterful technique and sense of personal immediacy he creates through his paintings.
I'm inspired by other artists, like Degas, Diebenkorn, Rothko, Warhol, and Glaser. I am also inspired by the work and thoughts of people like modern graphic designers, David Carson and Art Chantry, as well the creative use of communication found in such mediums as fashion photography and punk gig fliers. I also find inspiration in the passion of others, no matter what their occupation or lot in life. It tends to rub off on me.
TC: The Capts often say that it's our interests and worldview that define our work as DJs. What do you do for leisure? What other aspects of your life have a profound effect on what you illustrate/paint?
AB: Photography has recently become a passion of mine. It's a hobby I stumbled into a couple of years ago through my illustration work. I'm currently using it to attempt to create beautiful figurative works. However, I very much like the idea of using an arresting image to tell the stories of those who wouldn't otherwise have a "voice," such as those who might be socially-shunned for whatever reason. So, I'm seeking opportunities to not only tell interesting/uncomfortable/thought-provoking human and social stories, through my own eyes, but also find the common thread that sparks a personal connection, through illustration and photography.
Generally, my choice of what to illustrate comes from entities that inspire me in a positive way, such as music (I love Amy Winehouse and have done two portraits of her), as well as aspects of society that might inspire me to react negatively and use art as an outlet of expression. Political re-election years tend to hand many artists an abundance of material, myself included.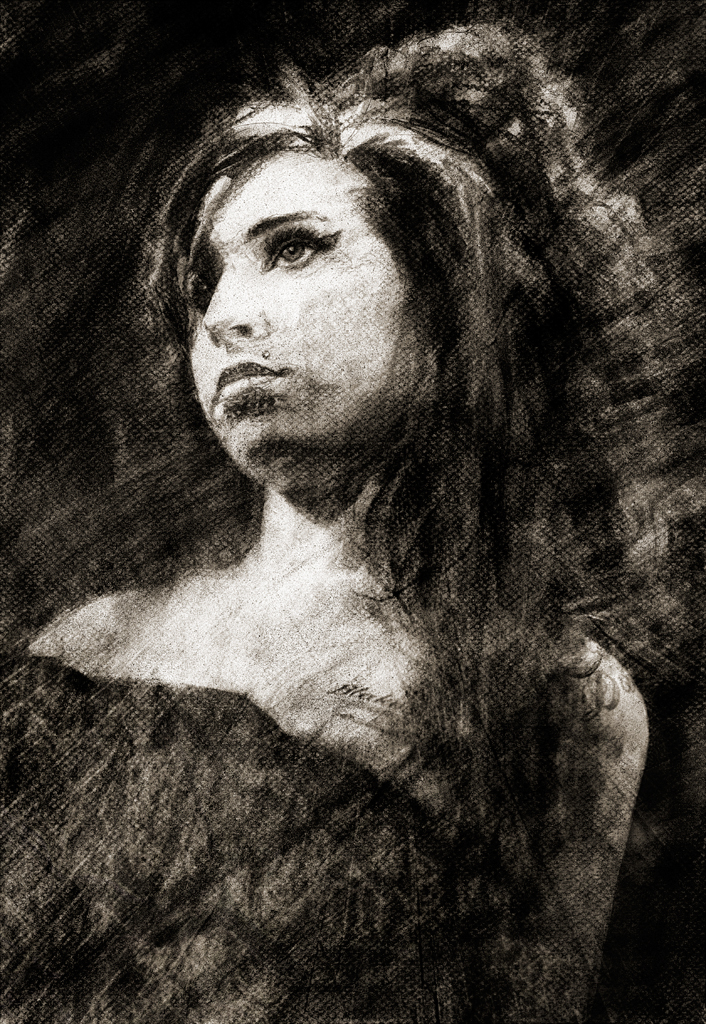 TC: Schooling?
AB: My schooling began at Iowa State University, where I studied graphic design. After realizing I loved illustration slightly more than graphic design, I made that my major at the Kansas City Art Institute, where I earned my BFA.
TC: Which of the 12 calendar images was the most fun to work on? Which do you think turned out the best? Which is your favorite?
AB: Our wonderful designers at Eyerus encouraged me to not feel constrained in any way. That freedom, coupled with the nature of the project, fostered a fertile ground for fun and creativity to run rampant.
If I had to pick one as the most fun to work on, I would give that honor to June, Gay Pride Day. I pick that one because of its potential for over-the-top lunacy, as well as its potential to strike a nerve. During the process, I showed the sketch to an individual whose reaction was a combination of laughter and discomfort. This told me that the concept was probably being communicated effectively.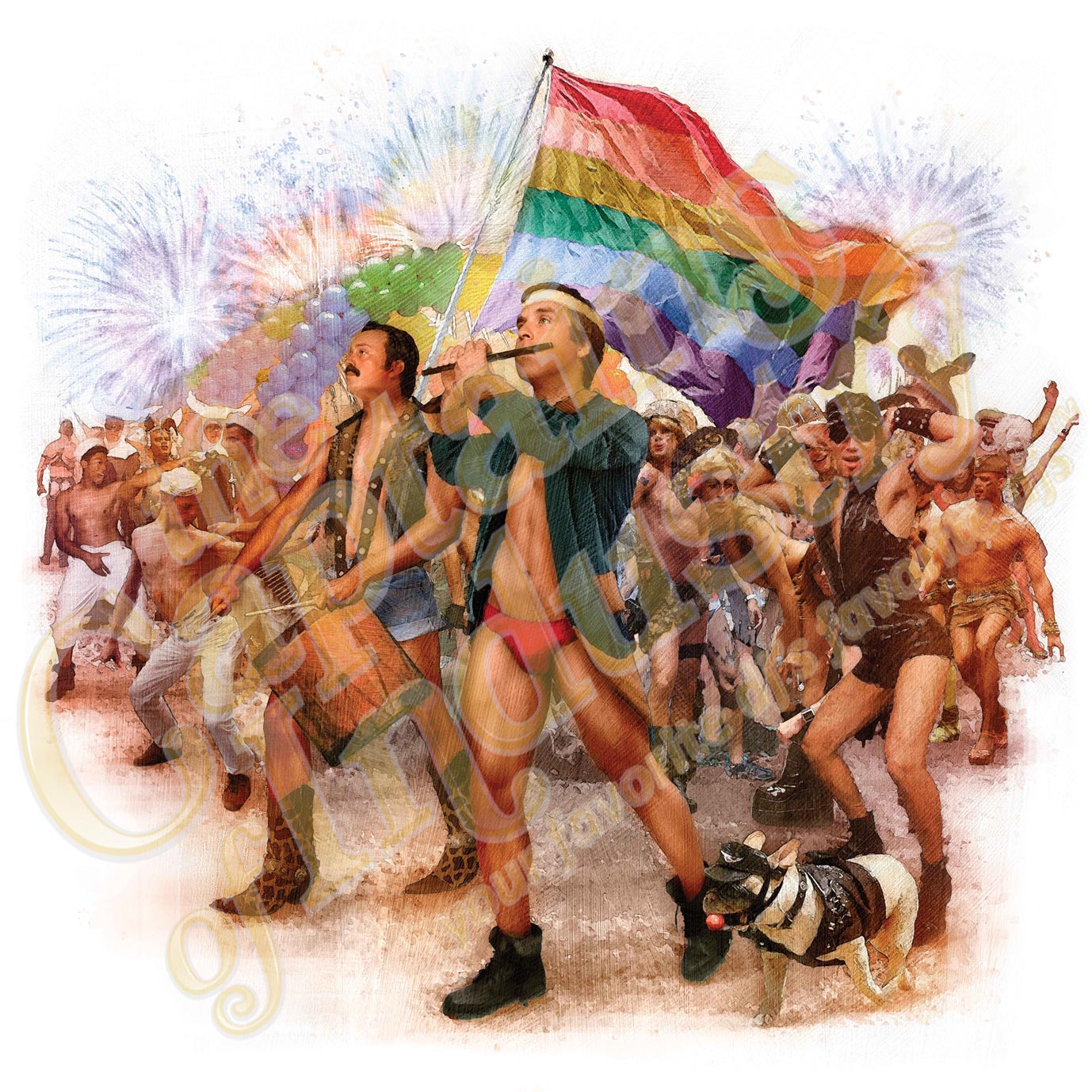 A very close runner-up for the most fun to work on goes to the Sodom and Gomorrah New Year. That's the one I most often found myself saying, "I can't believe I get to illustrate this (deflating masked blow-up doll, S & M voodoo doll, stocking-clad sheep…)."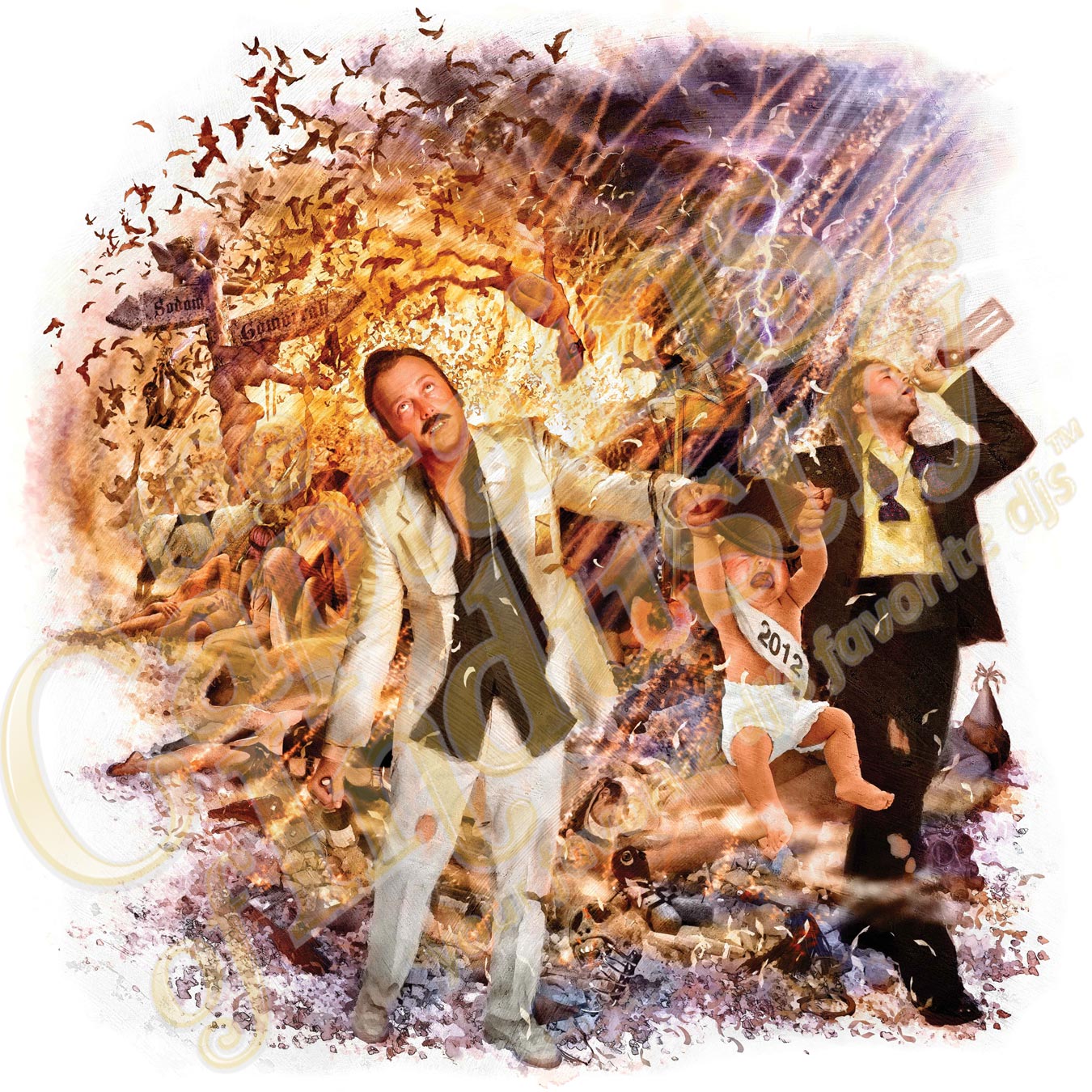 As for the best, I think, Pam Grier and Richard Roundtree would vote March (the Ian Ziering/NWA mash-up) as the marriage of art and concept that would best hit the mark, back in the day.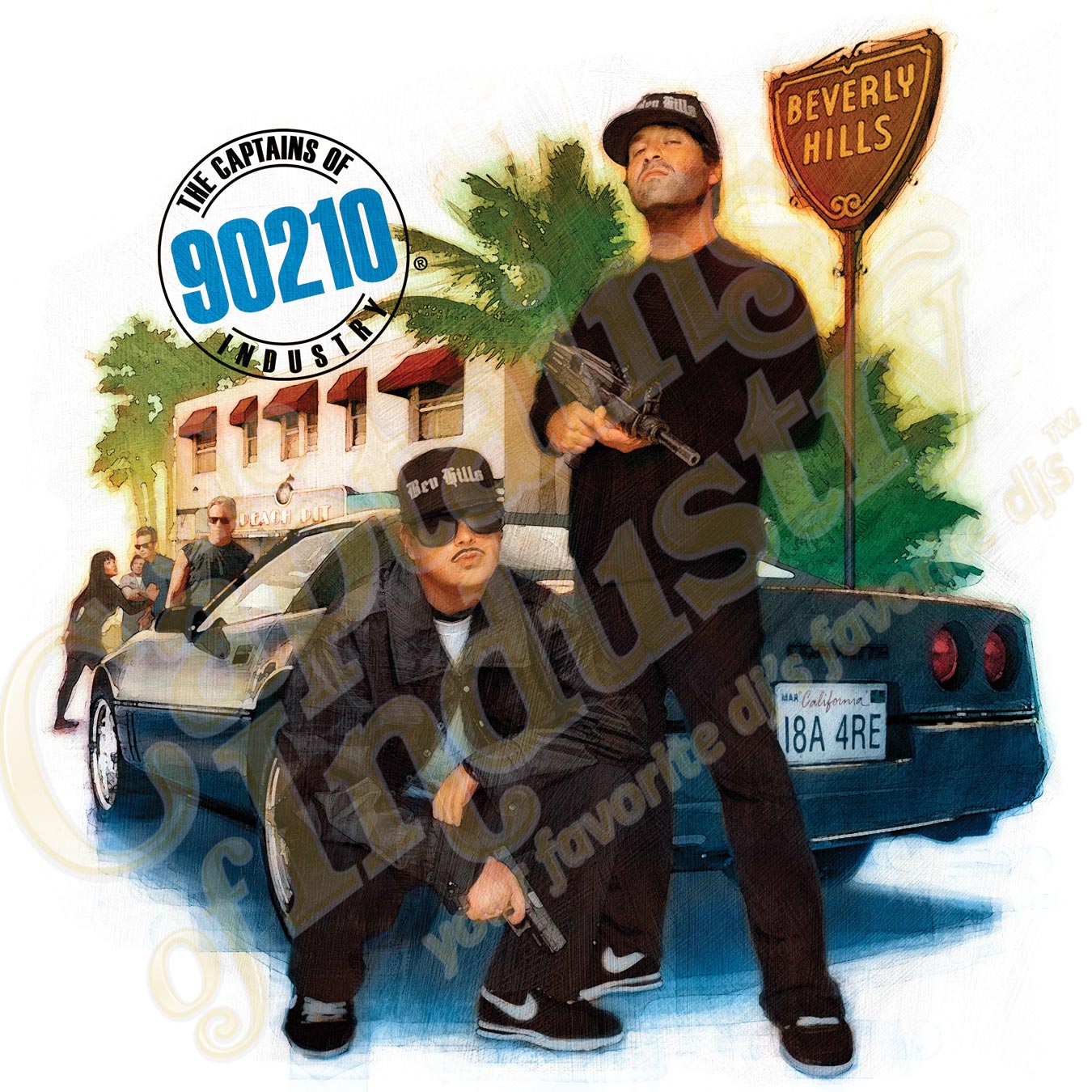 TC: And when you finally had a look at our concept ideas, which of them confirmed for you that The Capts were eccentric, to say the least? Where there any that you felt "ran to the exotic"?
AB: I thought the concepts were brilliant — from the holiday choices to the scene ideas to the last day of December. The expected holidays, such as New Year's were taken well over-the-top and the the esoteric holidays were filled with lives of their own. There was no room for the standard clichés and lots of room for creativity to run wild.
I consider The Capts to be inspired and devoted to their cause more than eccentric. The Beverly Hills 90210/gangsta rap mash-up was the first concept that had the earmarks, to me, of something completely out of the ordinary. And if bringing these two opposing parts of the 1990s together in harmony through Ian Ziering is eccentric, then, perhaps they are.
Viewing the results of The Capts' photo shoot (complete with pomeranian) showed me how much they were truly envisioning the scenes and how dedicated they were to being a creative force behind a product that would be not only beautiful to look at, but also provoke thought and cause a stir.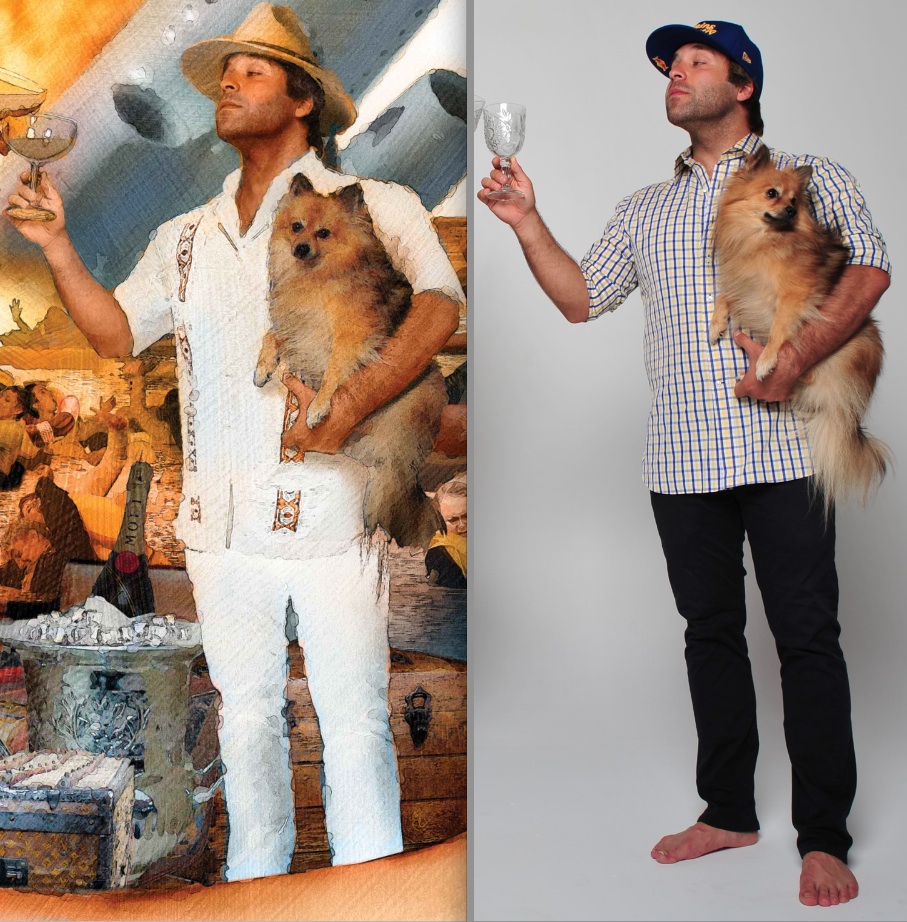 As to any that "ran to the exotic," the Winter Solstice scene — Snow Job/Shaft Funke meets the Matterhorn/yeti wars — may be considered a bit on the exotic side in some folks' books.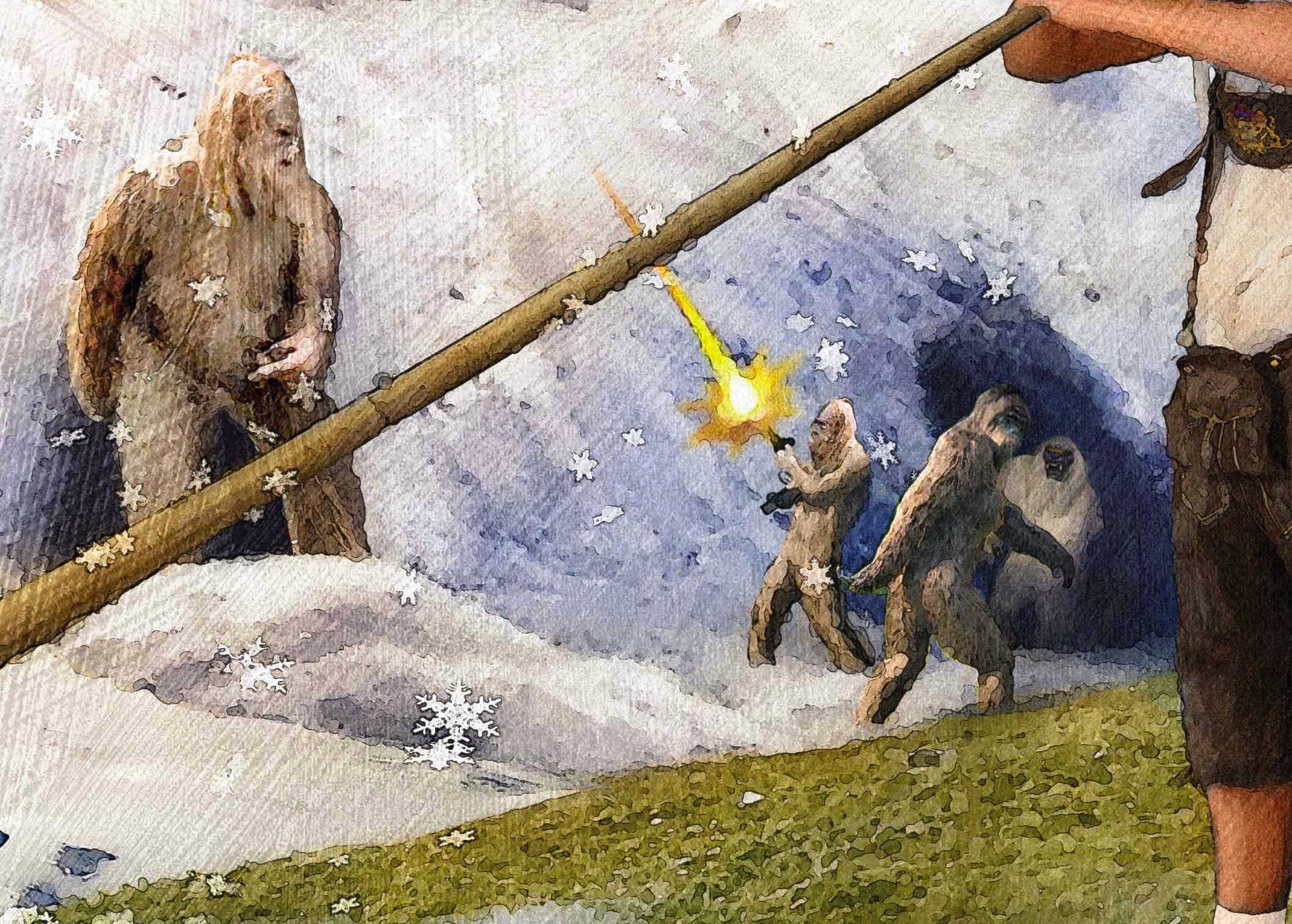 TC: Touché.
For more info about Allan Burch, visit www.allanburch.com
Secure a copy of our 2012 Calendar over at The Capts Online Haberdashery