The story surrounding the following note has been dished about for years now, many claiming it to be an embellishment, others using it as a case study to deal with the decision-making processes attached to theatrics of the dreaded request. But here is the actual document: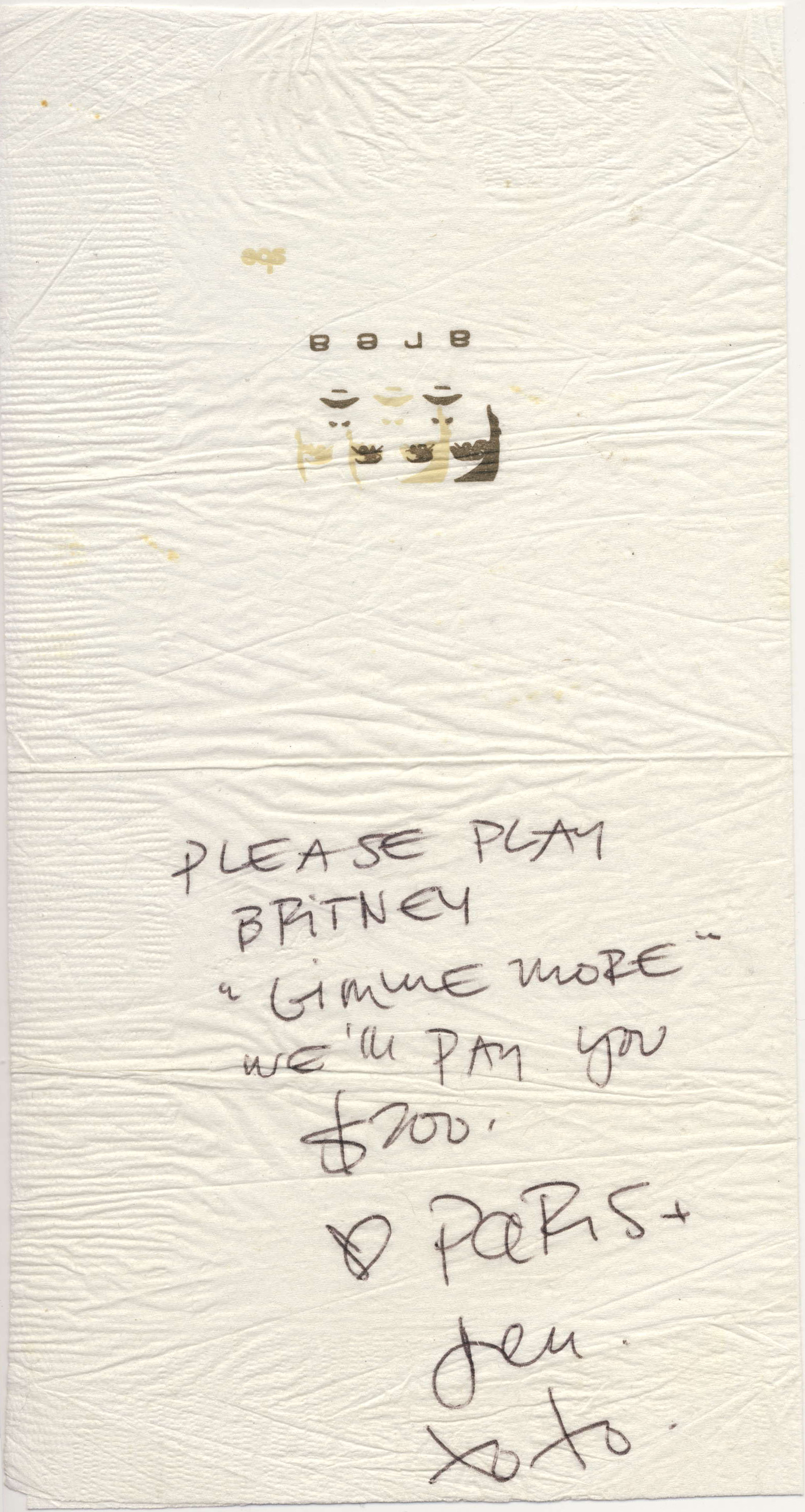 I choose not to personally identify the authors of the note, leaving the task to the reader and his/her own keen sense of observation and interpretation.
This napkin was delivered to Stonerokk while DJing at the now-defunct Area Nightclub in Hollywood CA, and what essentially happened was this: pop sensation Britney Spears had just released a new single, and a VIP table (that may or may not have included individuals who are frequently shadowed by paparazzi) made the written offer.
Choosing not to engage, StoneRokk sent them two Benjamin Franklins from his own kick with a response reading "Leave me alone."
Now, for many disc jocks, being in receivership of this note would be an ideal situation, as he has not only garnered the attention of socialites, resulting in written correspondence for proof, but also that a hefty reward is at stake, much higher than the average tip that the average DJ might entertain on the average night.
But for some, there are variables to take into account, beyond recognition and gratuity, such as the risk that inserting this request into current programming might pose to the overall success of an evening, one's taste or tolerance for the existing media of our day, or the number of zeroes lined up on the monthly bank statement — examples of this being the lack of common sense in ordering cordon bleu at a shabu-shabu house, the conscious shunning of reality TV in favor of NPR, or the notion that a billionaire need not exert the energy required to retrieve a rogue $20 bill that happens to be blowing down the avenue.
At the end of the day, a DJ must call upon his knowledge and experience with the various theories of Relativism and that concept of Free Will found betwixt pages of the King James Bible.
Here, StoneRokk opted for the scenario known in chess as End Game.